Artistic interpretations
The Batavian myth inspired not only humanists and poets, but also engravers and painters in the Dutch Republic. The 'historical' moment of negotiations between Civilis and the Romans was particularly appreciated. ##Otto van Veen, also known als Vaenius, published a series of engravings in 1612 on Civilis' Batavian revolt against the Romans (Batavorum cum Romanis bellum), after drawings by Antonio Tempesta.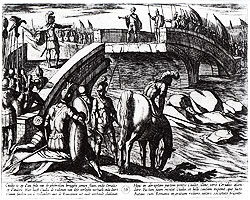 >Otto Vaenius, Negotiations between Civilis and the Romans across the river IJssel (1612).
In the 1650s and 1660s in particular, the Batavian myth formed the subject of a number of paintings, as after the Treaty of Münster (1648) and the end of the war with Spain, the Dutch once again looked for a distinct identity. When the burgomasters of Amsterdam commissioned paintings for the new town hall, built between 1648 and 1655, they ordered a painted chronicle of the Batavian revolt for the public galleries. Civilis remained an attractive protagonist for history paintings in the 1650s and 1660s.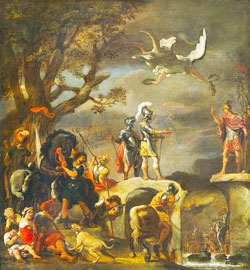 >Ferdinand Bol, Negotiations between Civilis and the Romans (ca. 1658)
The theme of negotiations between Batavians and Romans on an equal level became increasingly popular with artists in the Dutch Republic.
One of the paintings for the Amsterdam town hall was made by >Rembrandt. This painting, however, was quickly removed from the place it was designed for.