The Revolt: the Batavian myth
After the iconoclastic riots of 1566 and the beginning of the Revolt in Holland in 1572, the Dutch rebels struggled to legitimise their rebellion against >>Philip II, their lawful ruler. Crucial political documents, like the Union of Utrecht (1579) and the >>Act of Abjuration (1581) all adressed this problem. Aurelius' works on the Batavians, meanwhile, were re-printed in the 1580s, while the official historian of the States of Holland, Hadrianus Junius, presented newly-found primary sources in order to confirm the ancient freedoms of the province.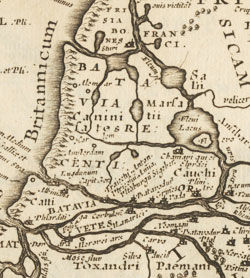 >Abraham Ortelius, Belgii veteris typus (1584).
Ortelius, the most influential cartographer of his time, made a distinction on his map of the Netherlands between 'Old Batavia' (Batavia vetus), the island of the Batavians as mentioned by Tacitus, and 'New Batavia' (Batavia Recentior), the remainder of the province of Holland.
@Image from homepages.rootsweb.com/ ~rbillard/vyerighe.htm [Personal webpage. Scanned maps from the atlas 'De vyerighe Colom']
The Revolt came to a temporary halt in 1609, with the signing of the Twelve Years' Truce. The return of peace enabled historians, playwrights and artists, among others, to contemplate the ideal form of government for the young Republic. Hence the antiquarian Petrus Scriverius composed a history of the Batavians in 1609, Batavica illustrata, the poet Theodore Rodenburgh wrote two plays on the theme, De trouwen Batavier (1609) and Batavierse vrijagie-spel (1616) while his colleague Jan Sywertsen Kolm published his Battaefsche vrienden-spieghel in 1615. The historian Johannes Gijsius, in 1616, wrote Oorsprong en voortgang der Neder-landscher beroerten en ellendicheden, based on the Batavian myth, and, in addition, Tacitus' translated works were reprinted three times between 1612 and 1616. The most important and best known literary applications of the myth written during the Truce, however, were by >Hugo Grotius and >P. C. Hooft.