Rembrandt and the Batavians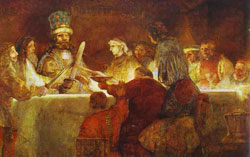 One of the painters commissioned to make a 'Batavian' painting for the new Amsterdam town hall was Rembrandt van Rijn (1606-69). Rembrandt chose the moment of the oath of the Batavians in the sacred grove, as described by Tacitus, Histories IV, 14. Civilis, with crown and sword, is the main protagonist of the composition.
Unlike his fellow painters, Rembrandt decided to depict Civilis with one blind eye, as some of the sources had described his appearance. This was almost certainly the main reason for the Amsterdam magistrates to reject the painting. In 1662 it was reportedly on display at the town hall, but shortly afterwards, it was removed from the building. The painting, originally measuring more than 5 x 5 metres, was reduced to 2 x 3 metres, which incidentally makes Civilis`s blind eye more clearly visible. It is currently on display at the Nationalmuseum in Stockholm
Such controversies were the exception rather than the rule. The >Batavian identity usually served as a means to refer to a shared historical background.